---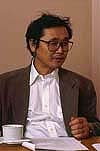 Profile
TAKUMI KUROIWA
Born 1947 in Omuta, Fukuoka Prefecture
Kiln established in September,1981
Exhibition at Shibuya Kuroda Ceramics
Tableware Exhibition at Mitsukoshi Department Store, Tokyo
Tableware Exhibition at Hankyu Department Store, Osaka
Awarded the Nichu Grand Prize and the Nisho Grand Prize (three times) in the Nishoten Exhibition

Takumi Kiln
Higashi Sakae-cho 2-8-1, Tajimi-shi, Gifu Prefecture
Telephone: 0572-23-8827

---


Profile
Kusaomi Kuroda
Born 1943 in Kamakura-shi, Kanagawa Prefecture
Graduated from Meiji Gakuen University, Dept. of Economics
President of Shibuya Kuroda Ceramics
Organized "Dai-Bizen Exhibition," "Shino and Oribe Exhibition,"
"Contemporary Ceramic Artists Exhibition"
Has written article ("Men Obsessed with Ceramics" and "About Ceramics, Now and in the Past") for the monthly magazine, "Yu-Raku" (Mugen Publishing Company)
Published the book, "Tokoton Bizen," from Kogei Publishing Company, etc.

Shibuya Kuroda Ceramics
Metroplaza 1F, Shibuya 1-16-14, Shibuya-ku, Tokyo
Tel: 03-3499-3225
Shibuya Kuroda Ceramics HOME PAGE
http://www.kurodatoen.co.jp
---

Kusaomi Kuroda Mr. Kuroiwa, I heard you were once a salaryman in Tokyo.

Takumi Kuroiwa That's right. But I wasn't formally employed.

Kusaomi What made you become serious about entering the ceramics world?

Takumi While I was in Tokyo, I went to the art museum in Takebashi where there was an exhibition of ceramics from the United States. I was first drawn into that world by the ceramic objet viewed there. Later the opportunity came up to study at the Isho Research Center run by the city of Tajimi City, in Mino, and so I stayed there two years for training.

Kusaomi So when you went to Mino, you went with the intention of creating ceramic objet?

Takumi At that time, yes. I was stimulated at first by the craft aspect of it, and the incentive to create such ceramic objet was strong. After I finished my study at Isho Research Center, I went to work under the master Ito Sensei.

Kusaomi So from Ito Sensei you learned about the ceramic objet side of ceramics?

Takumi Yes, that's right. First I began by making copies of Ito Sensei's works. But after a year and a half, I felt like I'd reached my limit. After that, I started trying Oribe-ware and Aka-e (red-painted), thanks to Katsuji Sato, a friend of mine who had been doing Oribe for a long time.
I felt that I had reached the limit with ceramic objets. I also had a family at that time and in order to support them, I had to make a realistic decision.
I was drawn to Katsuji's Oribe-ware. For craft ceramic objects, once a model or form is decided, you follow that direction. But for Oribe-ware, it's almost like jazz. You have the basic line, but you can arrange and improvise it along the way, and having that freedom was fascinating for me.

Kusaomi In order to attain your own personal style, you must have undergone many hardships. What kinds of problems did you encounter?

Takumi There are many people doing Oribe-ware, even now, but at that time those like Katsuji who only did Oribe were very few. He's the same age as me, but he started ten years before I did and so his techniques and work ethics greatly influenced me. I also greatly admire Kuniya Kato's Oribe-ware. Oribe-ware uses all the different styles of pottery-making.It uses ash glaze. This is the same as that used in Kizeto and in iron glaze and in bidoro (glass glaze)

Kusaomi Indeed the unglazed pot is coddled in a way, or is incised, or left without a design and with all different techniques.

Takumi In Oribe, the glaze can be separated and I can make large works and small ones too. This all makes the work easier.

Kusaomi Long ago, much of Oribe-ware was intended for tea. But now, many works are for everyday tableware. The world of ceramics has really changed.

Takumi The so-called ceramic artist came into being, so that the name or individual precedes the work itself, evoking a distinct philosophy.
Ceramics can mean not only a form of creative work, but also simply teacup making, pottery making, etc. and so the quality of work varies depending on what is being made and the place it is being made, and so with these differences come distinct policies, which I think is good. Just as long as it, of course, involves clay being fired ...

Kusaomi Each of your works expresses an idea, however they are still very useable and practical which is the basic tenet of pottery. And they are enjoyable.
By the way, your use of aka-e technique came after doing Oribe. Why did that happen?

Takumi I like simple aka-e designs. While working with Ito Sensei, I used the aka-e technique for some of the work. Not as illustrations, but for lines. My use of it originated from Ito Sensei's line. The power of gosu-aka-e brushwork and Oribe brushwork are similar. Whether it is good or not, there is something about it which one who has been trained in brushwork cannot depict.

Kusaomi Usually, aka-e is generally applied to the porcelain. However, you use it on the base of your pottery and although you do use a potter's wheel, most of your work is done by tatara (hand-molded)-style.

Takumi That's right. But I do like working at the wheel. I think of it as being similar to the soft shape that comes from work done by Mino-style pottery wheel. The essence of the wheel technique is being able to work with the clay. The clay gives the piece shape and when it is fired, it abides by the laws of nature.

Kusaomi The clay does not have a tight feel to it and so a warmth emerges from it. Your tatara-style has a softness to its shape.

Takumi Yes. I use a mold, but one that is not definite. So it results in a soft and warm feel.

Kusaomi The transition from craft ceramic objets, brings out the aka-e. Craft ceramic objets have a very hard feel to them, however, you made the adjustment to that transition by combining things well. The warmth of the illustrations and that of the pottery itself are well-matched. There's warmth, but not an overwhelming one.

Takumi To tell you the truth, I've become dependent on it. Until now, I could not find really good aka-e pigments. Aka-e pigments are different from glazes and making them is difficult. Glazes can be tested and modified, but for red pigment one cannot. The red pigment I use came from someone else. Not only was I given the pigment, but also advice about illustrations and other things. Truly excellent red will work on both porcelain and pottery. Originally, however, the red pigment was intended for porcelain over-glaze. For me, that idea was somewhat annoying. If you look at Rosanjin's red plates, it has a vibrant, startling effect.

Kusaomi In your works, the red pigment looks very good on the pottery.

Takumi Thanks to the color of the aka-e pigments. After I encounter these aka-e pigments, I began using aka-e in my works. Aka-e originated in China, however, I think mine came out of Oribe red.

Kusaomi The red coloring in your works has a warmth to it, as it balances with the kohiki (white glaze) extremely well. It has an extremely subtle feel to it. The people long ago had a lot of trouble working with the color red. What was most troublesome about this?

Takumi Depending on the season, the color is different. Aka-e pigment made during the hot seasons and that made during the cold season are completely different.It is very sensitive I think to the humidity and the temperature, but why its mood is good or bad, I don't know. Long ago, pottery making was a very troublesome occupation. How the potters were able to get their work done is something that I'm extremely interested in.

Kusaomi When I explain things to my customers, such as what the term "Tatara-style" means, I usually just say it means "hand-molded." Each work, therefore, is a different size. But, using a pottery wheel is in a sense hand-molded too. However, for Tatara-style, no machine is used at all and it really is hand molded. However, using Ikomi molds, a soft, almost muddy clay is poured through it, and large volume production is possible. So for western-style tableware and bone china, a pottery wheel, and even less, hand molding are not used.

Takumi Using Ikomi molds, there are a number of methods. Because the rim easily falls apart, only a limited number can be made from that, so the price is very expensive. However, the term "hand molded" now is being used in all different ways. There's a notion that because it is hand molded, it is good. In truth, some hand-molded things are not good. And on the other hand, factors such as low cost are a powerful incentive to make large-volume pottery. Especially around the Tajimi area. And with those around, our own work can come to fruition.

Kusaomi For sure, there are a lot of different kilns, using different types of fuel for firing which makes the Mino area a showroom for all of them. Why do you stay there and make one hand-molded piece at a time?

Takumi I make one at a time, but if I could do ten at one time, no doubt, it would be easy, which is the truth. However, I wanted to do things differently from others and pursued this path until now. Even after hundreds of years, the traditional Japanese ceramics still finds new discoveries. Each of these discoveries and the manner in which they came about reflect the times of that individual. And for ceramics, I think this is a very wonderful thing.

Kusaomi Earlier what you said about the glaze is in a way what you're talking about now. It has much depth to it. For European tableware, if the surface is good, then they are satisfied. But they fire the works only at low temperatures. For Japanese ceramics, high temperature firing penetrates the inside and something emerges from it. It's really an art form derived from fire. Ceramics takes much calculation, unlike painting because they must be fired. But the result cannot be totally predicted. Not only for ceramics, but for the many people involved, a wonderful work emerges. Ceramics uses the natural power of fire creating things that at times crack, and are worthless, but also some wonderful things.

Takumi Yes, that's a very interesting point. However, from the point of the creator, selecting the clay, selecting the technique, selecting the type of firing, and the things that need to be calculated, and those things that cannot be calculated---all these things. But there is still that "something" which we cannot rely on. The kiln works well after the weather gets cold. That's why, the major solo exhibitions come when autumn arrives.

Kusaomi Now that you mention it, last autumn at your exhibition the contrast between the red of the aka-e and the Oribe green was indeed very wonderful. You also had quite a number of works. Just to put all those different ideas into your work must have been quite a job. I hope from now on, you continue to create interesting works. And also works that bring pleasure when in use, and to allow the imagination of the user in finding more uses for it.

Takumi That they use it in different ways is really stimulating for me. Actually at the gallery, orders and opinions were made which were completely out of my frame of thought. New things are very precious, but making pottery using the same technique over and over is also very important.

Kusaomi Using wood for firing, some people fire only once a year, and some twice a year. But there are also those who fire 10 to 20 times a month. This is the world of ceramics.

Takumi There is an aspect of pottery making as a process built upon experience, not upon image and emotions.

Kusaomi What aspect of ceramics, especially expressed through Oribe, is the most intense?

Takumi For me, it has been all along the "act of doing it." The "act" of making pottery, because of this act, I am here today; the act of being able to have an exhibition at your place, the act of being able to make pottery. This is not because I have nothing particular to express ... However, one must be in good health when making this. It is very important to be in a good state of health when doing pottery, especially when tableware is being asked for. If it is made with a healthy feeling, the user, the customer can feel that.It is very important that one should feel refreshed, because that reflects on the work. It is reflected in the rim of the pottery. The works of Mr. Ito, my teacher, conveyed this intensity in their perfection. However, at that time, I was very depressed. The rice bowl I ate out of each day caused me anxiety because of this intensity.

Kusaomi Is that so? That sort of thing is very difficult. If there is no tension in the work, its presence disappears. Presence is important and even in relaxed pieces, if there is none, one gets bored by the work.

Takumi Presence is really very important. In the end, I don't know myself if it's there or not....(laughs)

Kusaomi I was pleased, after all this time, to encounter your aka-e which conveys much warmth and I look forward to your work hereafter.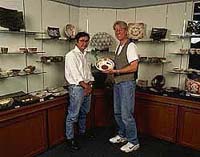 At an Exhibition with a Fan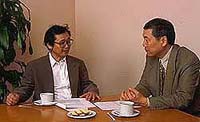 ---
Takumi Kuroiwa's Works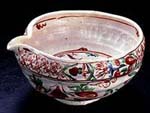 AKAE KATAKUCHI-HACHI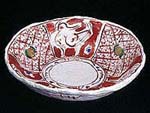 AKAE ASABACHI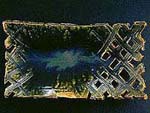 ORIBE SUKASHI OHZARA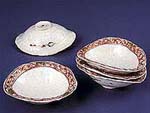 AKAE MUKOUZUKE SET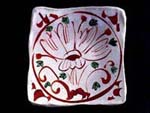 AKAE SHIHOUZARA SET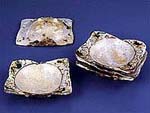 ORIBE SABIE SET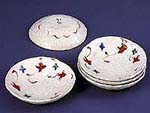 AKAE HACHI SET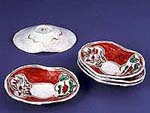 AKAE FUNAGATA SARA SET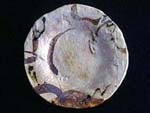 ORIBE KUSAE SARA SET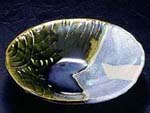 ORIBE HACHI SET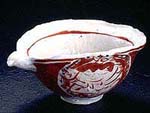 AKAE TATARA KATAKUCHI SET